If you ever want to experience an authentic Christmas atmosphere, I strongly recommend you visit Alsace. It is not only a beautiful region with a lot of history, but it is also a region with strong Christmas traditions.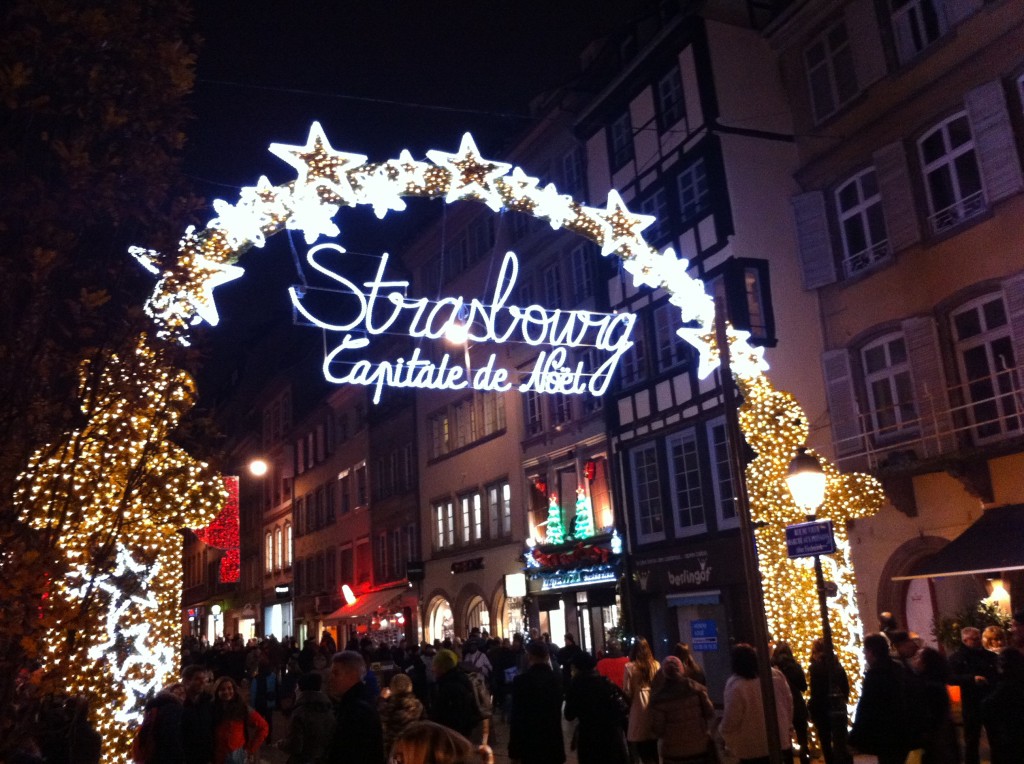 I went there this year for St Nicolas, which is celebrated all around Alsace and in other countries in the North and Eastern parts of Europe. St Nicolas brings gifts to nice kids while Pere Fouettard is supposed to punish those who haven't been behaving well. To celebrate St Nicolas' arrival, locals gather with kids to share bredele (traditional Christmas biscuits), tangerines, and sweets.
There is a lot to see in Strasbourg : the beautiful medieval cathedral, the numerous Christmas markets; the Vauban and old covered bridges.If you wish to see the city in a different way, you can also go on a boat tour along the Ill river.

Strasbourg is the main city. However if you have enough time, you should also visit smaller cities nearby where you won't see as many tourists and will have more time and space to wander around the Christmas markets.Obernai, for example, is only 30 minutes away by train from Strasbourg and very picturesque.

When you visit the region around the Christmas period, make sure you book your restaurants well in advance. Chez Yvonne is a must try near the picturesque "rue des Orfèvres". It is a traditional Alsatian winstub where you can try sauerkraut and other traditional Alsatian meals, usually very meaty. The desserts are also truly delicious and usually offer a combination of gingerbread flavours or traditional fruit tarts such as the blueberry tart. 
Other traditional winstubs include La Maison des Tanneurs in La Petite France and Au Pont Corbeau on the quai St Nicolas. 
Whether you are a vegetarian or not and want to try local meals with less or no meat, the Spätzle, traditional Alsatian pasta, from La Corde a Linge are a good alternative.
On a weekday, you can also go for a traditional flammekueche, the local Alsatian pizza with cream, onions and bacon, at L'Ancienne Douane. 
Alsatian wines are also well known around the world, especially if you like white wine with a fruity taste such as the Riesling.
Talking about pastries, locals often meet up in tearooms to share delicious pastries with tea or a hot chocolate. The best tearoom in town is Christian, located by the cathedral, but be ready to queue to get a table.
The addresses :
Au Pont Corbeau, 21 quai St Nicolas 67000 Strasbourg
Chez Yvonne, 10 rue du Sanglier 67000 Strasbourg
Christian, 10 rue Mercière 67000 Strasbourg
La Corde à Linge, 2 place Benjamin Six 67000 Strasbourg
L'Ancienne Douane, 6 rue de la Douane 67000 Strasbourg